Rihanna
has only been in the music industry 6 years and has made a major impact on not only music but fashion as well. She seems to have a "break the mold" attitude about her personal life, fashion, and hair. Her looks, no matter if it is an award show, concert, or travelling, seems to be very daring and sexy. Rihanna's personal style is ever-changing, just like her hairstyles. She rocks feminine, rocker, and sexy looks.
Rihanna is my personal style inspiration because she challenges me to think outside the box when it comes to fashion. Now I don't know if her style is completely hers or a mixture of her and her stylist nonetheless, it is great. You don't have to follow the norm and it is okay to mix textures and prints.
The layers of pearls really make this Alexander McQueen jumpsuit 10x better. This outfit is just sexy.
Rihanna is one of the first people who influenced me start wearing beanies. I love that she mixes the corset with a a beanie and jeans.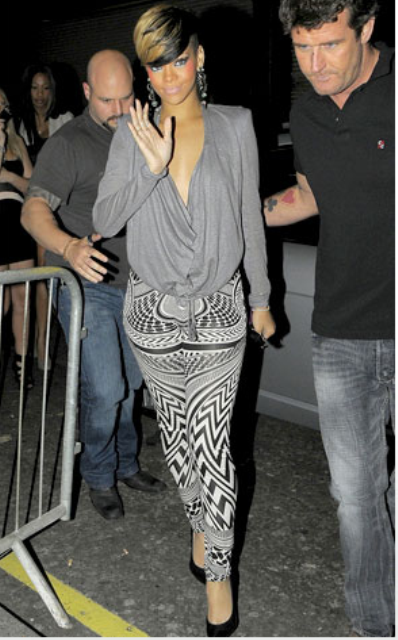 These Givenchy printed leggings she wore were ah-may-zing. I just love this outfit. I think it would've been even more bomb if she wore a colored top or shoes but its still cute. Plus look at that blush.
This Balmain jacket is a great touch to this pretty simple outfit. The combination of the jacket and the hair give me a Michael Jackson vibe.
I love that the romper matches the shoes but in a subtle way. And the romper looks super comfortable.
This looks is pretty simple and cute, especially with the bow headband in her hair. Her hair really makes this Kos skirt pop. The Zambesi corset is adorable as well.
This is a perfect spring and summer look. She is definitely not afraid to mix patterns, which is what I love about her style. The fedora and the Louboutins definitely top this outfit off.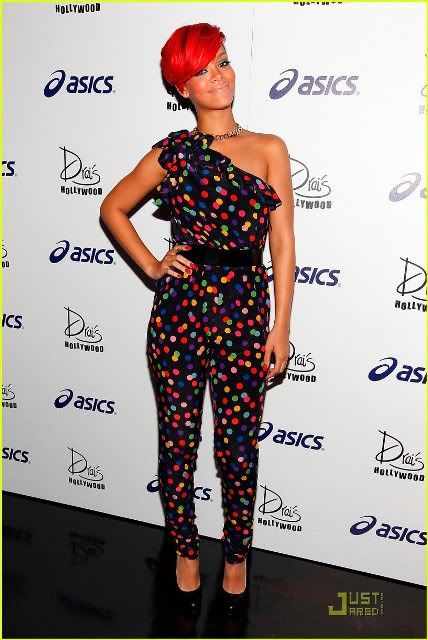 This is how you do a clown outfit the right way. This D&G one shoulder jumpsuit is loud and bold, just like her personality. I love that she kept her shoes and jewelry simple.
Leather jacket + vintage inspired hair + the nude shoes + the feminine dress = a great look. The mixture of all these different styles came out pretty good.
The tshirt and the puffy skirt is a different look that most would probably be to afraid to wear. The mixture of the different textures and looks is daring.
Color blocking gone right. Just like the previous outfit, most would think this outfit is too daring. I love it. The cropped sweater is by Maria Luisa, Pants are by Cacharel and those bomb gold shoes are from Giuseppe Zanotti.
What do you think about RiRi's style?
Ashley
xoxo