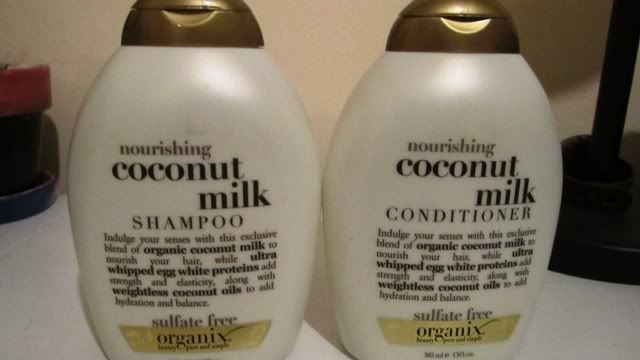 I will say that these two have become part of my favorite hair care products. I've always seen Organix in stores and never really gave it a second thought because it is slightly more expensive than most drugstore hair products (and I'm pretty cheap lol). I've been using these consistently for about 2-3 months and I am finally done with the bottles. I wanted to take the time to give a thorough review for those who are interested in these products or those who are looking to try something new.
These two products are Sulfate free, Paraben free, not tested on animals, Safe for color treated hair, made in the US, and the bottles are made from recycled products. These probably are not the most eco-friendly/natural products, but they are pretty close.
First the shampoo.
Oraganix Coconut Milk Shampoo
. This is different from most shampoos I use mainly because it does not have sulfate (which means it doesn't lather).
Pros
Sulfate free (sulfate can have the tendency to dry out your hair and dryer hair means your hair is more susceptible to breakage) Of course this is a personal preference though.
Leaves hair soft because of its creamy consistency, unlike most shampoos
Easy to find. You can find this in most stores in the United States
Great Smell and it leaves your hair smelling great afterwards
Cons
Not sure if it thoroughly cleanses hair. Maybe it is because we are taught to believe that a lather means the hair is clean but I almost feel like it just makes my hair soft but not clean. I could be wrong and this could just be my own mind.
I feel like I have to use a lot of product to get it evenly distributed and it seems like the shampoo does not spread well.
Overall, the shampoo is decent but I will not purchase it again. It leaves my hair with a soft feeling but I just dont feel like its the best shampoo. I do say this to say you should test it out for yourself.
On the other hand, The Organix Coconut Milk Conditioner makes up for what (I feel) the shampoo lacks.
Pros
creamy consistency which leaves my hair super soft. This conditioner is one of the best ones I've used when it comes to the softness.
Great Smell
Great for a deep conditioning treatment. The bottle says you can leave it on for 3-5 minutes but most of the time i leave it on for 10 minutes - 1 hour.
Cons
I can honestly say I cannot think of one con to this conditioner and that is rare lol but if I had to say one negative thing then I wish the bottle came with more product in it. I find myself trying to keep this as my "good conditioner" so I wont use it up as fast as my other conditioners.

(the thicker, white product at the top is the conditioner and the clear, more liquid one towards the bottom is the shampoo)


The conditioner is something I would recommend everyone to try, of any hair type. I love this conditioner so much that I have 2 more back up bottles in my bathroom lol. The shampoo just does not do it for me but if you happen to try it and love it then great. I do love that these products are designed to add protein and moisture to your hair, which are the two of the things your hair needs to stay healthy.
Have you ever tried any Organix products? What are your favorite shampoos or conditioners right now?
Ashley
xoxo
Also Check out