A few years ago I HATED coconuts. I hated the way they smelled and I didn't like the taste. Obviously my taste buds (and nose lol) has changed. Over the last couple months I've collected a lot of products coconut related products, unintentionally. Now I am obsessed with all things coconut.
After seeing a video on youtube about coconut oil and its benefits, it really made me want to research it myself. Coconut oil is one of those oils like Olive oil, it can be used for almost anything. It's great for cooking, a source of essential fatty acids, skin, and hair. I even heard it can aid in weight loss.
If you want to see a detailed list of all of its health benefits you can
click here
.
Earlier this week, I showed you guys a haul where I bought Now Healthy Foods Virgin Coconut Oil from GNC. If you are interested, I think it was around $8 for a 12 oz jar. This is a certified organic product.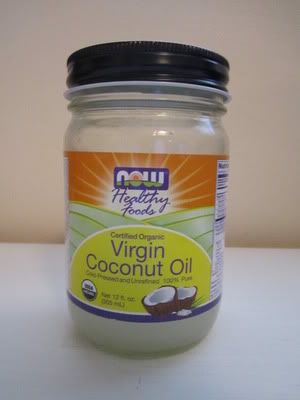 The coconut oil smells so good (well just like coconuts lol). The funny thing about this product is its melting point is so low it can easily be changed from a liquid to a solid. All I have to do is either store it in a cold place to get it to a solid form or I can sit it outside for 5 minutes and it will instantly becomes a liquid oil. You can literally see it melt in your hand.
I have been using this for my hair and it adds oil to my hair and makes it smell really good. I haven't applied it directly to my skin yet but I'm pretty sure it is a good moisturizer if your skin is feeling dry. I have however made a lip scrub from it. I mixed the coconut oil with sugar and applied it to my lips and it removed the dead skin and made my lips feel smooth. (but you can do this with almost any oil and sugar).
Since it came in such a huge jar and I plan to use half of it for beauty related things, I decided to separate half of it and put it in a small container.
I haven't used it for cooking yet but I'm sure it will not only add flavor but add nutrients that your body needs.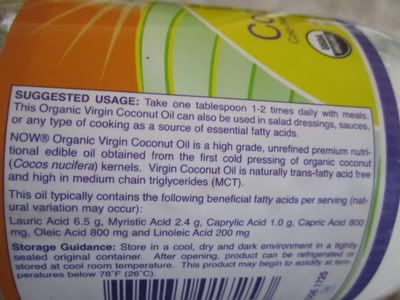 I really encourage you to do research on Coconut oil for yourself, to see if you are interested.
Another product that has coconut oil in it is this Organix Coconut Milk Anti-Breakage Serum. This product is anywhere between $4-8. I probably shouldn't even consider this a "coconut product" because Coconut oil is all the way at the bottom of the ingredients list. I can say it does smell like coconut oil and it makes my hair really soft when I put it in.
It claims it "instantly repairs dry hair, damaged, coarse, or chemically treated hair. It helps resurface the hair, repairs damaged hair and cuticles, and mends split ends and frizziness. It adds strength and elasticity."
I think over time it can improve the health of your hair. I don't have problems with frizziness but for those of you who do, I'm certain it would tame it.
Now I've had this body spray and lotion for a while and I'm not even sure they still carry it at the stores anymore. It is Bath & Body Work's Exotic Coconut. This is more of a summer/spring scent (obviously lol) but I do like spraying it in my room for a tropical feeling. I plan on taking these with me on my cruise to the Caribbean, the smell will fit the vibe lol.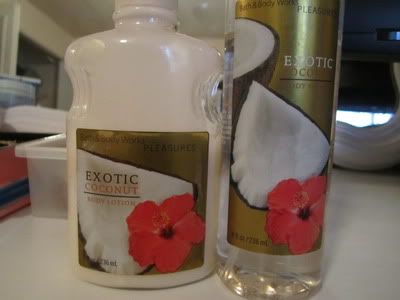 I also love this Master of Mixes Pina Colada mixer. All you have to do is add rum and ice and mix it in a blender and it is sooooo good. If you are under 21 you can just use cream of coconut and ice (and maybe a little sugar) and it will taste exactly the same. Its a fun thing to have every once in a while or if you are having a party.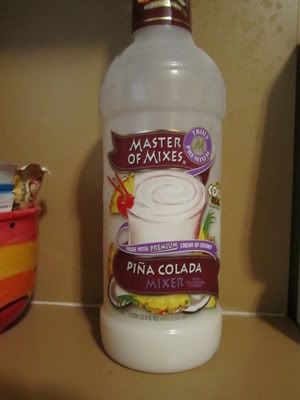 I will say I have tried coconut water and I didn't really like it. I hear everyone say they love it but I was not feeling it, AT ALL.
What is something you are obsessed with right now? Let me know so I can become obsessed with it too lol.
Ashley
xoxo
Also Check out