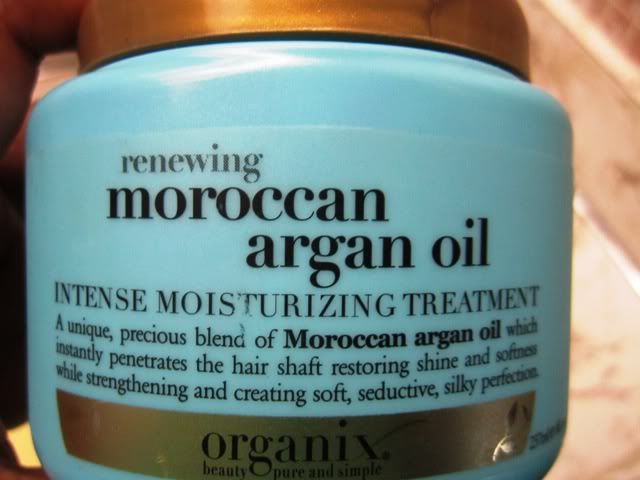 I've been using this product for about 3 months now (and roughly 5-7 applications). I wanted to give you guys a thorough review of this product.
Organix' website claims it
:
"Renew your hair's inner health with Argan oil nutrients, antioxidants, and Vitamin E. Organix Renewing Moroccan Argan Oil Renewing Treatment is a deep conditioning, exotic formula to add brilliant shine and create lush softness without leaving any heavy residue which can weigh hair down."
The front of the packing states:
"A unique, precious blend of Moroccan Argan Oil which instantly penetrates the hair shaft restoring shine and softness while strengthening and creating soft, seductive, silky perfection."
I will first state if these claims were correct or incorrect, from my experience.
Brilliant shine? Well my hair is naturally shiny because of all the oils I use in my hair and my natural oils so I cannot confirm if this is true or not. At least it did not take shine from my hair so this one is neutral.
I noticed my hair was softer after using but not a dramatic difference in the softness.
This deep conditioner did not leave any residue in my hair ( and I use a lot of the product) and it did not weigh my hair down at all.
I cannot say whether it penetrates the hair shaft or not, I have no way of knowing this.
How to use this product:
Scoop a small amount into palm and evenly distribute with a wide tooth comb from your roots to your tips. Leave treatment in for 3-5 minutes. Product performance is enhanced by placing cap over hair and wrapping cap with a hot wet towel. Rinse with mild to cool water.
I used a little more product than a small scoop because I have a thicker texture of hair. I'm sure if your hair is more silky or a thinner texture you will only need to use a scoop.
Pros:
It is easily accessible. You can find it at just about any drugstore, beauty supply store, website, or store that sells hair care products.
The smell. It has a strong cologne smell (that I happen to like). It smells somewhat like a man's cologne. The smell does not linger but you can smell it when you are applying it. I thought this could be the smell of the "argan oil" in it but in the ingredients list, it states there is parfum ( I guess that could be a negative).
Its extremely creamy. It sticks to my hair well and is pretty easy to apply.
This product is sulfate-free (well actually all Organix products are sulfate free)
When I am applying it to my hair with my hands i notice my hands feel smoother and silkier.
I like that the packaging is nice, it makes it seem like you are using a luxurious product (in my opinion).
Cons
I dont feel like it bettered my hair in any way. It seems almost as if I didn't use a deep conditioner. This could all just be my experience or me expecting a dramatic change but I think after using a product for 3 months, I should be able to notice a change. :-(
It is a little on the pricey side for my budget. It costs around $8 but I picked it up when Ulta was having a BOGO deal. If you are interested in this product you should definitely check out when Ulta, Walgreens, or CVS is having a BOGO deal, I notice them every now and then. I think there are cheaper deep conditioners that can do the same thing if not more.
Argan Oil is towards the bottom of the ingredients list and so is jojoba. Since this is a "Moroccan Argan Oil" I wish it contained more Argan Oil.
I dont notice a silkier or softer texture in my hair.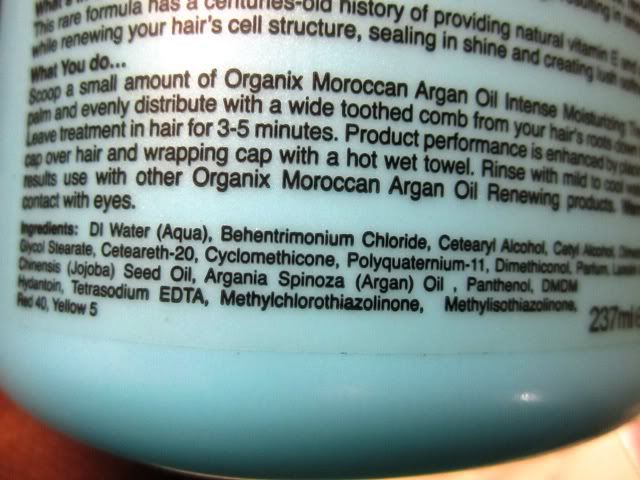 Overall Review:
I give this product 2.5/5
I think there are better deep conditioning products than this. I personally did not notice a difference or a stronger feeling in my hair.
This doesn't mean I hate Organix, I just don't like this product. I do love their Coconut Oil Conditioner and I think I would probably use that as a deep conditioner instead of this. I plan on doing a review on that product soon so be on the look out for that.
Would I purchase this again? - No
Would I recommend this?- I would say no unless someone is really adamant about trying this then go ahead.
Have you tried this deep conditioner or any products from Organix? What is your favorite deep conditioner so I can try it out?
Ashley
xoxo
Also Check Out