Here are most of the things I got during February...well so far. Most of these things I got from couponing or they were on clearance. The reason i do these hauls is to share what I got for someone who may be looking to try new things or looking for something specific.
Hair
L to R: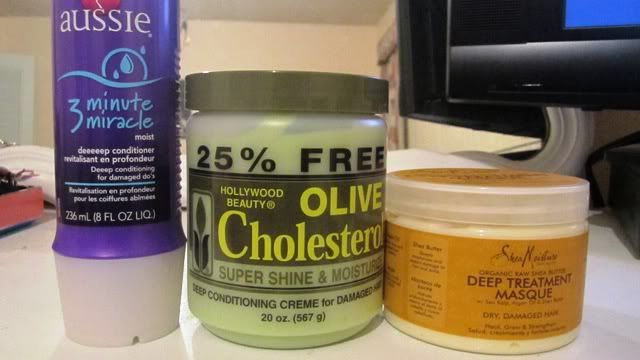 Aussie 3 Minute Miracle deeeeep conditioner -
Cant wait to try this. It was around $3 at
Walgreens
Hollywood Beauty Olive Cholesterol
- I have used this product since I was younger. I like to get these cheaper conditioners to mix with my higher quality conditioners. I think I got this from either Walgreens, CVS, or Sally's Beauty. I cannot remember lol sorry.
Shea Moisture Deep Treatment Masque
- I used this Monday and it was okay. I didn't notice a major difference in my hair but it seemed to be pretty good. I purchased this from
Walgreens
Skin Care
: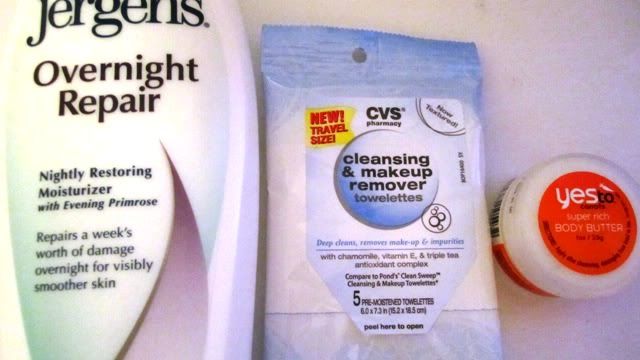 Jergens Night Repair Nightly Restoring Moisturizer
- This is on sale at
Target
right now for $3.00ish. I used a coupon and got this for $2.ish. It seems to have a really good smell to it.
CVS Cleansing & Makeup Remover Towelettes
- These were less than $2 at
CVS
. Great for just quickly removing make up
Yes To Carrots Super Rich Body Butter
- I got this for absolutely free from
Target.
This is on sale in the travel section for $2 and there was a $2 coupon on "
yes to carrots
" Facebook page which makes this free. To add, this body butter is so rich and creamy. When I am done with this trial size I almost want to purchase a larger container. and it does not smell like carrots lol
Eye shadow
and
Blush
:
I've always wanted to try this
Wet N Wild Eye Shadow Collection in "I heart Matte" -
This was around $3-5 at
Walgreens
and it was well worth it. I plan on doing a separate review on this product.
Revlon Matte Eye Shadow
in
Vintage Lace (001) -
Only a few bucks at
CVS
This was also another great discounted item.
Almay Smart Shade Blush in Pink Rose
. There was a $3 coupon on
Target's
website and this product was on sale for $4.40 which made this $1.40. Great buy. The bad thing is when I swatched it, it barely showed up on my skin :-(
Nails
: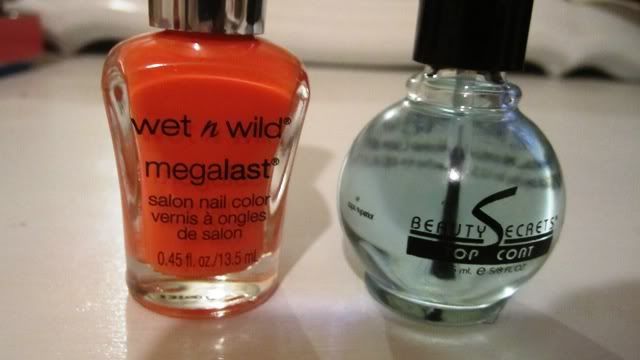 Wet n Wild Megalast Salon Nail Color
in
Club Havana (211B)
-
Walgreens
for $1 or $2
Beauty Secrets Top Coat
from
Sally's Beauty Supply
. Now....I tried this on my nails for about 3 or 4 days and my nails chipped. I do not know whats wrong with my nails, every top coat I try seems to make my nails chip faster than when I do not have on a top coat.
Lips
:
Chapstick
was free at
Walgreens
. It is on sale for .99cents and there is a $1 coupon in Walgreens february coupon book.
This Nivea Milk & Honey Soothing Lip Care
is on sale 2 for $5 at
CVS
this week and next week. If you have coupons you can get it for even cheaper. This smells really good too.
Both of these
L'Oreal Lipsticks
were on sale for $2.80 and I had two $1 off coupons which made each $1.80. The shades I picked up are
Eva Longoria's Caramel (836)
and
Linda Evangelista's Beige (809).
I've been going Lip Butter crazy lol. I want to get all of the shades but thats not practical.
Revlon Lip Butter in Berry Smoothie (050)
and
Tutti Fruitti (015).
I got these from CVS and Target for around $5-7.
Face Products
:
Maybelline Instant Age Rewind Radiant Firming Makeup in Tan.
Target for $6.40ish I used a coupon and it made it $4.40ish. This color is a little light for me but will be perfect underneath my eyes to brighten.
L'Oreal Studio Secrets Anti-Dull Primer
was $5.ish at
Target
and I used a $2 coupon from L'Oreal's website which made it $3.ish.
These two
Covergirl Concealers in #6
is a great buy at
Target
. They were on sale for $3.ish and I used a $1 off coupon on each. I have two more of these in my make up collection already but these are pretty good concealers to have. They dont give full coverage but they're good for the price.
Foundations/Powders
: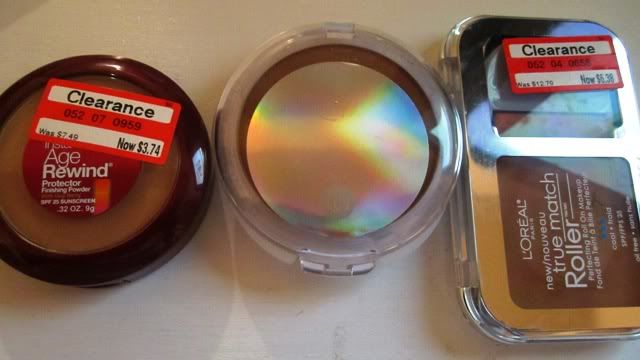 Maybelline Instant Age Rewind Pressed Powder in Honey
- $3.74 and used a $1 coupon. A little light for my complexion but great for under the eyes for me.
CoverGirl TruBlend Pressed Powder in #6
. This one was on sale too but I cant remember the price and I also used a coupon which made it a better deal.
L'Oreal True Match Roller Foundation in C5-6
. This one is a light for my skin but great under the eyes or to highlight certain areas.
Wow that is a lot of products. I will try not to do anymore shopping for the rest of February lol. If you have a Target in your area you should definitely check to see what products they have on sale. I have noticed many stores have had a lot of cosmetics on sale since the end of December. The value of these products are well over $120 and I would say I spent about 1/3 of that or even less. Now is a great time to buy discounted cosmetics. I also noticed that many of the darker shades are discounted as well, great for us darker girls.
What are some new things you purchased? Also, If you want me to do swatches or reviews of any of these products let me know.
Ashley
xoxo
Also Check Out
OPI Nicki Minaj Collection Review
Music Monday: Young Wild and Free
Jan. Favorites
The Hunger Games Book Review