This past Saturday, I went shopping at a few places and picked up three things from Target, the Dollar Store, and Walgreens.
I picked up this Banana Boat Ultra Defense Continuous Spray Sunscreen in SPF 85 from the Dollar Store for $1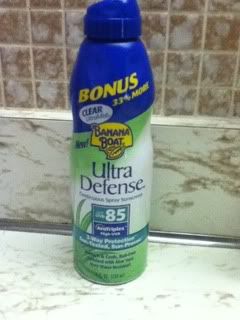 I don't usually get SPF that high but It was the only one they had. The sad thing is I realized it only protects against UVB rays and not UVA (from what i heard aren't sunscreens supposed to protect you against both?) I plan on doing a little more research to find out if this product is really effective or not.
I also picked up another Cleanser. The Clean & Clear Morning Burst Skin Brightening Facial Cleanser. I picked it up at target for around $6 (or maybe $5 and some change). I hope it works just as well as the last morning burst cleanser I had. But it smells really good so that is a good thing.
My favorite thing I purchased was this scarf at Walgreens. First off, I had no clue Walgreens sold scarves. They are 2/$10 or $5 for one and they didn't have many options but some of them were cute. The one i picked up is a black and white floral. The material is 100% Rayon and its light enough to wear during these summer months. I really love scarves and cant wait to incorporate this scarf into my wardrobe or even wear it as a turban on my head. we'll see....
If I end up liking the cleanser and the sunscreen I will definitely do a review on them.
Ashley
xoxo