I've always heard that Yankee Candles were good but I was too cheap to purchase them lol. I would always see the glade candles(which were way less expensive than Yankee) and I decided to try it. I have been in love with them since. Recently I started testing Yankee Candles (the small votives) to see if I liked it. So the battle begins....*ding ding ding*
Glade Candles
Pros
Less Expensive than other brands
Easily Accessible (Target, Walmart, Grocery Stores)
Great Scents that can fill a whole room(maybe 2 rooms) and the scent will linger even when the candle is finished
Burns for almost a full day (22 hours)
Cons
Doesn't have a variety of scents ( about 7)
Only one size (4 oz)
Depending on the scent, it can be strong
Yankee Candles
Pros
VARIETY of scents, that range from super sweet to woodsy smells
Variety of sizes (from tea lights to large jars)
Depending on the size, it can last a very long time (even the smallest one last about 12 hours)
Cons
( i am not sure if this is just the experience i had, but i noticed) it does not seem to have a scent that last long and as soon as the candle is burned through the scent is GONE! This could be because I was testing with smaller candles but...yeah
can be a little pricey if you want a larger container
So the winner is......
ITS A TIE!!! lol
For price and long lasting scent I would honestly have to choose Glade. For a variety of flavors, I would choose Yankee Candle
Here are a few of my favorite scents from each
Glade Hawaiian Breeze infused with Essential Oils(orange one pictured below. very tropical, coconut-ish)
Glade Island Escape (blue aqua, sun-warmed figs, and ripe mango)
Glade Sparkle of Spring (green packaging. smells like lime but it is really fresh and not overwhelming)
Glade Creamy Custard and Blushing Apple (not photo'd. this has to be my favorite and most purchased from Glade. It smells like you are baking a pie but it is not super sweet.)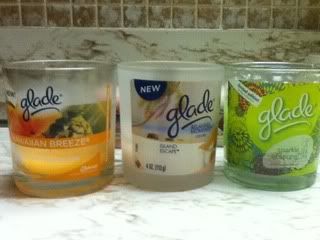 Yankee Candles
Soft Blanket
Fluffy Towels
but my FAVORITE FAVORITE Yankee Candle is
PINK SANDS
the smell of this is omg....i love it. YankeeCandle.com describes it as an exotic island escape in the beautiful mix of bright citrus, sweet florals, and spicy vanilla. This scent is light and not overpowering but it smells really good.
A small note: the lady at the Yankee Candle store was telling me it is better to get an accurate smell of the scent by smelling the lid(when it is in a glass jar with a bubble lid) rather than smelling where the wick is. I'm not sure if i'm the only one that didn't know that but i figured i would share that information.
Also, Yankee is also having a sale right now. Any candle that is red, white, or blue is buy one get one 50% off. They have a variety of scents in all of those colors too. Check out a store or the
website
if you are interested.
Let me know what your favorite candle is...
xoxo
Ashley