Now I know I'm super late on this crackle trend. When it first came out with OPI a few months ago I was searching and searching and couldn't find it, so I kinda gave up on it. When I was in Colorado last week I saw it at an Ulta I visited and I had to try it.
I decided to pick up the China Glaze Crackle Glaze in Black Mesh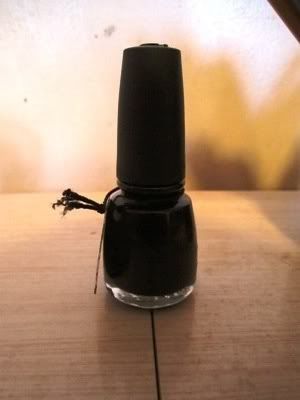 The first time I applied it, it didn't come out how I expected. It was in big lines instead of random crackles. During this madness, the nail polish spilled all over me and my computer and ended up messing up the design.
So I decided to take it off and reapply it. I noticed not much product was coming on the brush so I decided to shake it up and that was the hallelujah moment. After I shook the product, it applied and crackled nicely.
Point Black Period.... I love this nail polish. I think its something different from just putting on a regular, boring coat of nail polish.
The one thing that is my personal problem with it is the color for MY skin tone. It doesn't make my hands look as feminine as I like. I think the black is too close to my skin tone, next time I see a crackle nail polish I will definitely pick it up in another color (White, Blue, Pink, Silver...something other than black lol). I've had it on for a couple days now and it has barely chipped and I didnt even put a top coat on it.
I would give this product a 5/5. If you've been thinking about getting the crackle nail polish you should at least try it. Just remember to shake it up lol.
by the way, the color I used underneath it is O.P.I's Elephantastic Pink
Have you tried crackle nail polishes? Or whats your favorite nail polish trend?
Also Check Out
Ashley
xoxo