This is everything I took with my to my trip to Colorado. I only wore make up for a couple days but I like to have all of this with me just in case. This may be a lot for some of you guys or maybe too little. I don't bring any eye shadows because i usually don't wear anything on my eyes.
Here is my case. I found this under my sink with a bunch of other bags I have. I didnt even know I had it. Im surprised all of this fits in this bag.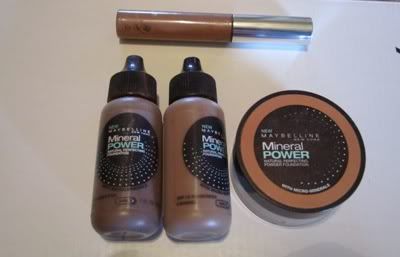 On top is my concealer. The label wore off but I think it is from Covergirl.
The two liquid foundations are Maybelline's Mineral Power Natural Perfecting Foundation in Dark 2 (Caramel) and Dark 3 (Cocoa).
The powder foundation is from Maybelline as well.
It is the Mineral Power Natural Perfecting Powder foundation in Dark 1 (Tan).
I brought two different foundations because since last summer I have been in between two different shades.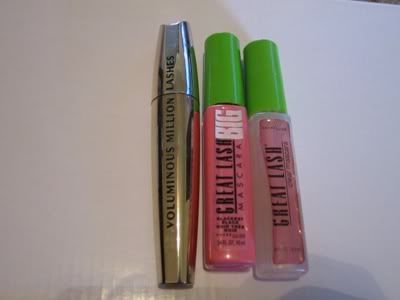 The gold mascara is the Voluminous Million Lashes by L'oreal.
The middle one is Great Big Lash Mascara by Maybelline in Blackest Black.
The one on the left is Maybelline's Great Last Clear Mascara ( I use it to tame my eyebrows).
I only brought two mascaras, the million lashes for a dramatic look and the great big lash for an everyday look.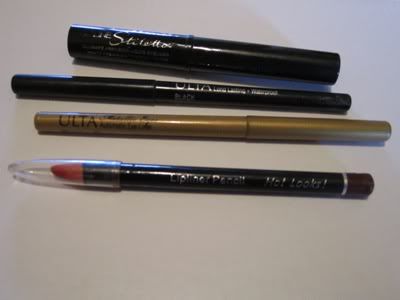 The top is Line Stiletto Liquid Liner by Maybelline.
The second is Automatic Eye liner by Ulta in black
the third is Metallic Eyes Automatic Eye Liner by Ulta in Golden Eyes.
The fourth is a lip liner in a redish pink ( a little girl bought this from me so I dont know where she got it from lol)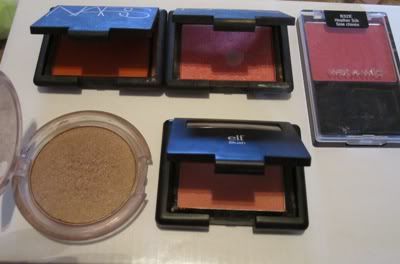 Top Row L to R:
Nars Blush in Taj Mahal
Nars Blush in Orgasm
Wet n Wild blusher in Heather Silk (832E)
Bottom Row:
E.L.F. Healthy Glow Bronzing Powder in Warm Tan ( I use this as a highlight)
E.L.F. Blush in Candid Coral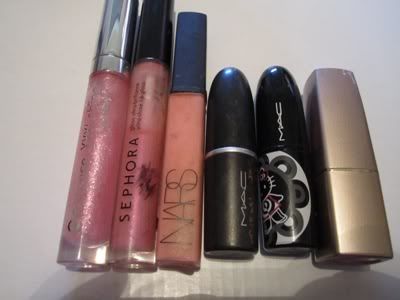 L to R:
Essence XXXL Shine Lip Gloss in Bubble Babe
Sephora Lip Gloss #29 (ink spilled and got all over it)
Nars Turkish Delight Lip Gloss
MAC Freckletone Lip Stick
MAC Fresh Brew Lip Stick
Milani Lip Stick in Mandarina
Mary Kay Replenishing Serum+c (i like to put this under my make up)
EOS lip balm
L to R:
the first is the sponge I use to put my foundation on with (sorry its dirty lol)
Essence of Beauty Control Powder Brush
E.L.F. Complexion Brush
Essence of Beauty Blush and Powder Brush (but my dog ate the powder side lol dont ask...)
Studio Tools Brush (its like a blending crease brush, got it from target for like 2 bucks)
Donna Loren Eye Shadow Brush
some no name eyebrow brush
Essence of Beauty Foundation and Concealer Brush
I had no clue I had so much stuff from Maybelline lol.
What make up do you bring when you travel?
Also check out
Ashley
xoxo