First is this
Lime Sherbet Candle
by Walmart. It smells so freaking good. I got it about 4weeks ago and we finally just finished it. I lit it for a couple hours everyday and it gives the family room a nice fragrance. I thought it would be too sweet but it definitely isn't. It gives whatever room you put it in a nice sweet aroma.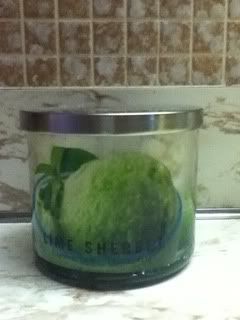 These one pound dumbbells have also been my favorite too. I got them at Walmart also for around $2 each ( i think...but don't quote me). They're perfect for beginners. They are actually walking weights but i use them during my workout exercises....and i love that they're pink lol
Lose It App. I have a love hate relationship with this app. It lets you log all your workouts, meals, and lets you track your weight loss progress. It really helps you evaluate what you've eaten that day and how many calories you've burned. Here are two examples of how it tracks your food. One day I went over by 8 calories and another I was under by 788. I dont use it all the time but I do use it a few times a week. Even if you don't have an ipod touch, ipad, or iphone you can go on the
Lose it website
Another favorite is this Nike Training App. It is super intense (even the easiest workouts. especially if you aren't very active) but it is a VERY good workout. I love that you can play music while you're working out and it makes the time go by much faster. If you have an apple device you should definitely check this out (at least give it one try). Even if you dont you could probably google other circuit training exercises that you can do that are similar to this.
This is my most favorite. The Harry Potter series. OMG i am soooo infatuated by these movies. I decided one day (only about 2 months ago so im a newbie on the series) i'd just rent the movies to see if i liked them or not. I freaking love them. I have been renting them from blockbuster. I NEVER thought i would like the series but i am actually attached to it and I've only been watching them for 2 weeks. The final movie was amazing and I had to hold back the tears. I think even if you arent interested in seeing the movies or reading the books, look up the synopsis on wikipedia. I always thought I would NEVER like harry potter but look at me now. lol
What are some of your favorite things right now?
Also check out
Ashley
xoxo