I love
Crystal Light
. Now when I first started drinking it I didnt really like it because I was so used to drinking flavorful drinks like soda and juice. Now that I'm used to it, it is actually yummy. If you are trying to start drinking water you should definitely try these. You are getting (some of) your daily water intake. They come in packets that make 1 quart, 2 quarts for pitchers and small packets to pour in water bottles.
The great thing is a bottle of this (or a serving) is only 5 calories per serving. You cant beat that except if you are drinking plain water.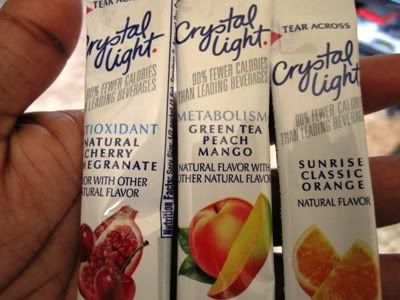 The flavors I have:
Strawberry Kiwi
Strawberry Orange Banana
Iced Tea Natural Lemon
Natural Pink Lemonade - My favorite
Antioxidant Natural Cherry Pomegranate
Metabolism Green Tea Peach Mango
Sunrise Classic Orange - great for breakfast, it tastes similar to orange juice
Lately I have noticed they have certain ones for specific problems. As I just mentioned they have antioxidant (which im sure is to fight antioxidants) and the green tea peach mango is probably supposed to boost your metabolism (which is what most green teas do). I noticed in stores they have one that is supposed to help your skin, but I haven't tried it yet. I'm not sure if they actually "work" though.
Most of the time I get these on BOGO deals so thats when I stock up. I know Publix (which is the grocery store in my local area) has them on sale just about every other week, so you should check your local ads to see if they have them. I'm sure you can find this in most grocery stores. They are usually around $2-$4.
Have you ever tried crystal light? or whats your favorite "healthy" drink?

Ashley
xoxo