Midnight And The Meaning Of Love is the 3rd novel from author, Sister Souljah. This book is the sequel to Midnight: A Gangster Love Story and a prequel to the Coldest Winter Ever.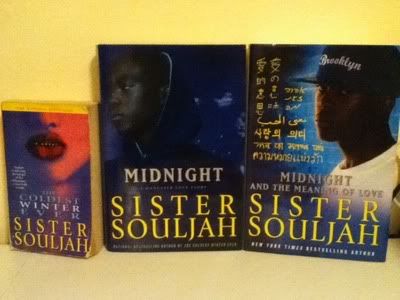 If you aren't familiar with any of these books I'll give you a brief synopsis.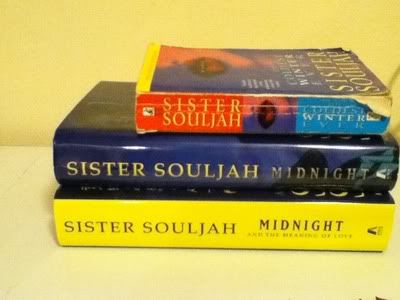 The Coldest Winter Ever is about Winter Santiaga is the the teenage daughter of a notorious drug dealer in Brooklyn, NY. Winter is used to getting what she wants and is kind of promiscuous. She likes this boy, Midnight, who works for her father but he wont give her the time of day. This book really deals with Winter getting her world turned upside down and how she deals with losing some things that are important to her. If you haven't read The Coldest Winter Ever, you really should.
The second book, Midnight A Gangster Love Story, is actually the prequel to the Coldest Winter Ever. Midnight was brought up in an Islamic African family in the Sudan but him, his mother, and his sister move to Brooklyn, NY. This book is about Midnight adjusting to living in the States, taking care of his mother and sister, staying true to his religious beliefs, and falling in love. He ends up falling in love with a Japanese girl, Akemi, and marries her. At the end of the story Akemi's father kidnaps her and takes her back to Japan. Midnight then decides he is going to Japan to get his wife back.
In the current book, Midnight and The Meaning Of Love, Midnight takes us on an adventure as he tries to get his wife back. There are three parts to the book: The Brooklyn part where he makes sure his mother and sister are safe and secure while he is away and takes us on the journey before he leaves New York. The second part is in Japan. It takes us through the process and obstacles he faces while trying to get his wife back and the mercenary who helps him find her and learn more about the Japanese culture. The third part is in Korea where he tries to find Akemi's grandmother.
This book is pretty good. Since the first book, I pretty much fell in love with Midnight. He is different from most males in the United States and has different values, which makes most of the women attracted to him in these novels. In this last book I really felt like I am travelling around the world with Midnight as I was reading it. It is a great love story that everyone can relate to no matter where you live, what your religion is, or what your economic status. There are so many different aspects in this book.
This book really made me have a respect for people of different religions and cultures than me. You will also learn few Arabic, Japanese, and Korean words. It really teaches you a lot about different cultures and how they view different people.
I also loved that the book had pictures (lol). Having pictures of the characters really helped me connect to them even more.
I don't want to give away too many details or spoilers just in case anyone wants to read it but there were some things I didn't like about it.
I didn't like that there was really no link from this book to the Coldest Winter Ever. Sister souljah didn't really explain how Midnight came to work with Winter's father, what happened to his wife, or some other things. Maybe she will come out with another book but I'm not sure...
I'm not really down with polygamy, which I'm sure most of us who are of this generation and in most countries agree with me...but that is just a personal reason. I did enjoy reading about it though, it was a very interesting aspect.
The book was 600 pages, which is A LOT (in my opinion lol). It took me about 5 days to read. I think it could've been condensed and there were some things that should have been left out and didn't need much explaining.
Despite those cons, it was a really great novel. The author really draws you into what you are reading.
Some people may consider these "hood novels" but they are so much more. I think if you open your mind you can actually learn from these books. Personally, these books made me reevaluate how I may be perceived by males, what some qualities I should look for in a man, and I learned that I need to be more dedicated to God and seek him more.
The meaning of love deals with many different issues like love (hence the title lol), religion, adjusting to different cultures, and polygamy.
I love that you can read all of these separately without reading any of the previous novels. Although reading them all helps you become closer with the characters.
I would recommend this book to anyone, especially if you are looking for a good fictional read.
Here is an interview the artist did about the book a few months ago
What are some books you have been reading lately? I'd love to know because I'm really trying to get back into reading.
Ashley
xoxo