I like blogging about different products I try because I like reading posts about different products. I want to help those out who may be searching for this product and happen to stumble across my blog. My reviews are just meant to be another opinion about a certain product. My review is not the end all be all on a product because we all have different experiences.
Now I've been using this product for about a couple months now. I think I picked it up at Target when I needed a new heat protector. I haven't used one in so long, the last one I used was Tresemme's Heat Tamer (and that was a few years ago).
Aussie's Heat Protecting Shine Spray claims that it "Helps shield hair from heat damage and lets your look shine".
Now my hair is naturally shiny and I use a lot of different oils in my hair so I'm not sure if this product adds more shine to my hair or not.
On the heat protecting side, No one TRULY knows if heat protectors work on your hair. We all like to think they do. Its kind of like sunscreen lol...we use it just to make sure we don't damage our skin (or hair in this aspect).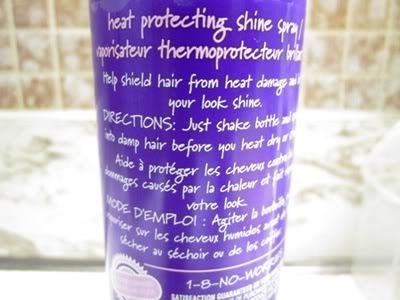 I use this product after I shampoo and condition my hair. I apply it to my hair then wait for it to soak in a little then fully blow dry my hair. I think it would be hard to use this product if you are only flat ironing your hair because it is a water-based product and if you don't let your hair dry before you flat iron it, there is a chance of frying your hair (which defeats the purpose of using a heat protector in the first place). I realized I prefer heat protectors that are oils or dry products as opposed to liquid, especially for flat ironing my hair.
But I do notice if I use too much, it will make my hair feel a little sticky (its not extremely noticeable but I can feel that the texture of my hair is a little different).
Another con I have is that the second ingredient is alcohol, which is bad for our hair and can have a drying effect.
I like that this product seems to evenly distribute the product in a mist. I like to feel like this product is protecting my hair but I am not absolutely sure it does. This product is extremely affordable and easily accessible.
This is my first Aussie product so I am not sure how it compares to their other products, I would like to try their 3 minute conditioner.
On the back of the bottle it does say "Satisfaction Guaranteed or your money back (within the first 30 days)". But it also says you have to call with unused product and your receipt. Umm how would you know if you satisfied if it is "unused"? But anyway....
Would I purchase this product again?
- Maybe, if it was on sale and I didn't want to spend a lot on a heat protector.
Would I recommend this?
- If you are interested in trying a new heat protector on your hair, and you have about $4 to spare, sure. I don't think this is a horrible product but it isn't a "holy grail" product either. If I had to recommend any heat protector it would be the chi silk infusion (which has been the best heat protector I've used to this date, I just wish it wasn't so expensive).
I would give this product a 3.75/5
What is your favorite heat protector?
Ashley
xoxo
Also Check Out