I've always seen these in stores but I was hestitant about trying them. One day I just decided to give in after seeing a few youtubers do videos on them. They made them look very easy to use and they turned out great on them. You can get them for around $7-$10 depending on your local store.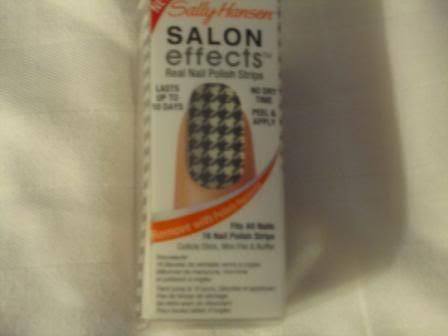 I chose the Sally Hansen Salon Effects Real Nail Polish Strips in Houndstooth.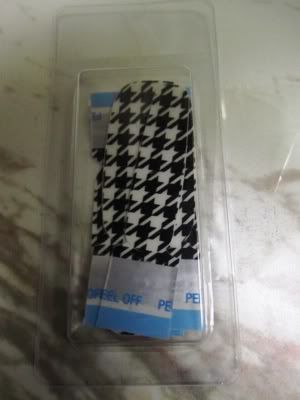 First let me tell you about the application. It isnt difficult at all. You have to make sure your nails are clean and your cuticles are pushed back so the nail strips will look natural on your nails and last longer. You basically pull off the bottom and top layer of plastic and mold it onto your nail. If you make a mistake you can situate it a few times. Most of them were almost 2 times the size of my nail so I could cut it in half (length-wise) and use it for a smaller nail (like my pinky or pointer). You should try to do this so you will end up having more because the set only comes with 16 so you are guaranteed only one application.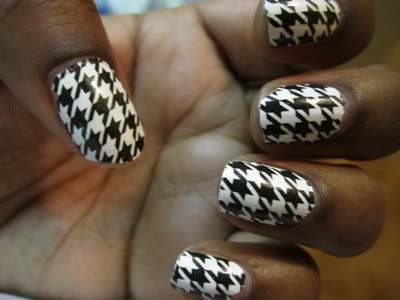 I've had them on for a week now and I have to say that I really love them. I did make a few mistakes and they dont look perfect but nonetheless, they are great. Next time I will definitely put a top coat on because the tips of them did chip. The instructions didnt say anything about putting a top coat on so I decided not to. BUT i noticed these do not chip on me as much as regular nail polish does. When I wear regular nail polish it begins to chip on the third day and by the 5th day it just looks like a hot mess. Also you can see that they grew out, so depending on how long it takes your nails to grow will also depend on how long they last.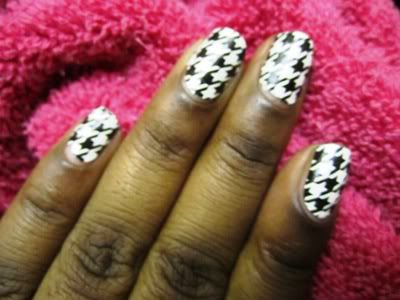 I love the print on them, The houndstooth is really cute and stands out.



I would give this product 4.5 out of 5 and I would definitely repurchase. I cant wait to pick up other designs.
I wish they weren't as expensive or even make it $12 and come with 20 strips (so you can use them two times).
I wanted to do this review so others could get a first hand opinion on how they work and how they turn on.
Have you ever tried nail strips?
Ashley
xoxo
UPDATE
So when I took these nail strips off my nails, my nails were super sore. They felt really brittle (similar to when I get acrylic taken off my nails) and I hated that. I have pretty strong and healthy nails and my nails haven't felt like that in a LONG time. Maybe it was just me but I figured I'd just warn you guys.
Also.... I had about 6 nail strips left that were not used and I wanted to use them....but nope. I even put them in a zip lock bag so they would last but they didnt. They were like dried up stickers. So its obvious you can only use these once, regardless of how you try to save them.
Just thought I'd let you guys know if you're thinking about getting them. I have another package of these in yellow, hopefully I'll have a better experience.